I Wish I Said Hello is meant to be a global project, and You can be part of it!
We're working a good online tool that will allow to create missed connection stickers really fast, but meanwhile… here's how we do it:
1. Choose or create a missed connection
You can do it from Craigslist or from your local newspaper or magazine. Or you can write about something that happened to you, or to one of your friends.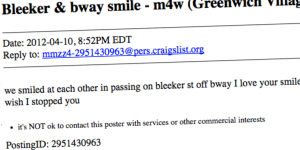 Ideally, the missed connection you choose should be poetic + descriptive + located
2. Create the text
Select the most meaningful sentences of the original text, the ones that summarize the whole story. Download our template and put them there!

3. Print it on sticker or label paper
For our stickers we try to use bright colored paper, but you can choose whatever you have available.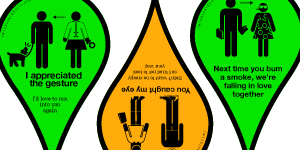 4. Illustrate it
Use the description of the subjects from the missed connection to recreate the situation. Usually there won't be enough information, so feel free to fill the gaps with your imagination!
If you have image editing software, such as Illustrator or Photoshop, you can edit the template before printing it. Otherwise just take a black marker and have fun.

5. Stick it!
Go to the location where the missed connection happened and leave your mark! And don't forget to send us the picture 😀